Last week, our founders and directors, Mary Evelyn Tucker and John Grim, attended a high-level faith leaders meeting in Abu Dhabi, in preparation for the upcoming COP28 meetings in Dubai. The theme of this Global Faith Leaders Summit was "Confluence of Conscience: Uniting Faith Leaders for Planetary Resurgence." Leaders from across many religious and Indigenous traditions and figures from faith-based environmental organizations gathered there and were greeted by President Sheikh Mohamed, who lauded their work and stressed the importance of these issues. The event was hosted by UNEP Faith for Earth and the Council of Muslim Elders.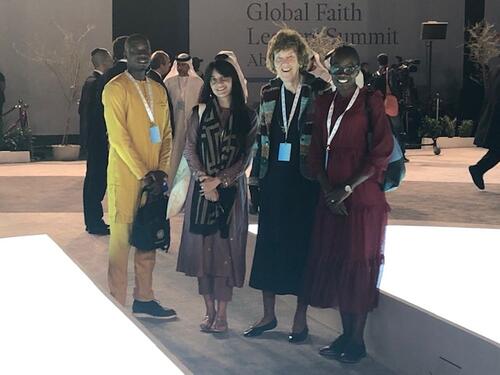 Out of this event came what is being called "
The Abu Dhabi Interfaith Statement for COP28.
" Faith leaders from across the globe signed this document sounding another alarm regarding the global climate and urging world leaders to act.
The document description from the UN site:
In the spirit of unity, shared responsibility, and Human Fraternity, and at this pivotal moment of the global climate crisis that demands transformative action to keep 1.5 degrees within reach and serve affected and vulnerable communities, we, representatives of diverse faith and Indigenous traditions, through dialogue with scientists, religious scholars, academics, women's organizations, youth, civil society, business leaders, and environmental policymakers, convened in Abu Dhabi in the lead-up to COP28 to express our shared concern for the escalating climate impacts that imperil our cherished planet, as well as our common commitment to jointly address this global crisis, building upon our previous efforts, including the interfaith appeal for COP26. Our faith instills in us a sacred duty to cherish not only our human family but also the fragile ecosystem that cradles us.
Go here to read the full text of the Abu Dhabi Interfaith Statement for COP28.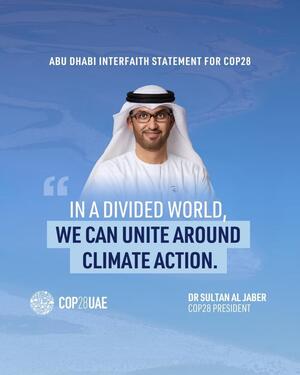 COP28 President Dr. Sultan Al Jaber had this to say about the document:
"It is a powerful statement of intent that the entire world needs to hear. It was a statement of urgency, unity, solidarity, responsibility and hope. You [faith leaders] combine all faiths around a single message of our shared humanity.
You are the custodians of the beliefs and aspirations of the vast majority of everyone living on the planet.
Your collective faiths continue to inspire all people to live in harmony with nature and to act to protect our fragile world.
You have brought together diverse faiths around a common goal and have shown that in a divided world, we can unite around climate action."
You can read more about this event and other faith-based activities here at the UNEP Faith for Earth site. There you'll also find links to the YouTube videos of Faith for Earth's pre-COP Thematic Discussion Series "to enhance the understanding of faith actors on the COP 28 priorities and climate-related priorities," as well as details about the first-ever faith pavilion at a COP meeting.
Here are a few articles and other resources regarding the Global Faith Leaders Summit event for additional information and perspectives:
"COP28 PRESIDENCY RECEIVES 'ABU DHABI INTERFAITH STATEMENT FOR COP28′ AT GLOBAL FAITH LEADERS' SUMMIT," COP28 News Desk (official press release)
"10 Main Points From the Abu Dhabi Interfaith Statement on Climate Change." Muslim Council of Elders
"Religions call on COP28 for climate pledge accountability, rapid shift to clean energy," National Catholic Reporter
"Global faith leaders call for urgent action on climate change," Vatican News
"Religion and Sustainability at COP28," Forbes
The Vatican News YouTube channel posted the following brief videos to give the rest of the world a taste of the experience of this important summit and a recap of each day's activity. The third video includes the signing ceremony for the official document.
Image Credit: John Grim
Tags:
Pre-COP Global Faith Leaders Summit